Okay, this looked like fun, so I decided to give it a go...
You Are Cinderella!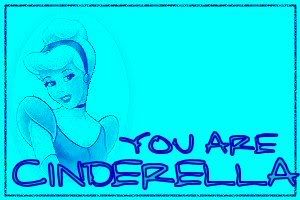 Dignified and hard working. With a gentle and soft-spoken manner you have something many people don't. Patience. Even through the moments of heartbreak you're still able to hold onto all of your hopes and dreams. Bide your time; your dream will come true.
Which Disney Princess are You?
Come on...you know you want to take it!
On the non-royal front, I've been sucked into The DaVinci code pretty deeply, so haven't been doing as much crochet. But, I did get to one row shy of finishing the main body of the Short 'N Sweet Bolero today. And I only had to rip out 2 rows! I'm a moron...I removed the crochet hook to try it on to see if I wanted to add another row for length - I did - and placed the H hook next to another one on my coffee table. Then, I ate my dinner, washed my hands, turned on ANTM, picked up a hook and started working on the bolero...then, 2 rows in, I noticed the small hook still sitting on the coffee table...and realized that I had worked the last 2 rows with an I hook instead. I almost left it, but was afraid it would end up all funkified just at the bottom, so ended up ripping out the last 2 rows and starting over with the right hook. Oy... Too bad too. I was really hoping to get started on the sleeves today. Oh well. Another day (hopefully tomorrow!)